Lyric Marketing's HOT Top 10 for July – Let's Celebrate Independence!
July 18, 2012
Lyric's Hot List for September – straight from Paris!
September 3, 2012
Greetings fron HOT Texas!  Kinda hard to wrap your mind around pushing or working too much or too hard this month in 100++ heat!  Don't  you just feel like hanging by the pool or laying around like the photo of the lions?  I came across the featured photo of the lions and fell in love with it.  Daniel Dolpire of YourShot submitted the photo called "Resting Lions, Tanzania" for Nat Geo's monthly photo of the day feature.  He gives this description of getting the shot, "I took this "once-in-a-lifetime" shot at Klein's Camp in the Serengeti, Tanzania. We came upon these lions at 7:17 in the morning. I scrambled for my two camera bodies (Nikon D4 and D3s and 200mm-400mm and 500mm) and got the shot! Exactly six minutes later the first lion got up and within another five minutes, three were sleeping and the other three had gone off into the bush! I have been taking wildlife photos for over 20 years, but this has got to be my special moment!"  You can download the wallpaper image at National Geography's Photo of the Month page.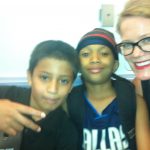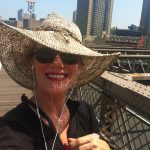 Daniel's description of the lions set me thinking about memomrable moments that we so often accidentally encounter.  Sometimes we set oursevles up for them, like Daniel going to Tanzania and being in the world of lions, and sometimes we don't, like me recently getting a impromptu performance by a coupld of kids on the NYC subway line,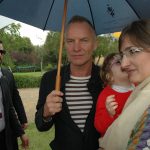 catching Sting's heart throbbing gaze in a recent photograph,
or walking the Brooklyn Bridge for the first time (a deliberate 'set-up' for a memorable moment)!  Life is full of surprises if we open our eyes and hearts to make them happen and experience them!
So what does that mean to your marketing? We all want excitement and to be inspired and stimulated.  I want my experience with my clients, friends and family to be fabulous!  I want them to have a memorable moment(s) when they 'experience' me.  Your marketing CAN reflect a side of you that can and WILL garner loyalty and preference from your clients.  Our aim at Lyric Marketing is to help you develop your story then tell your story, make people talk about you, fall in love with you and what you do!   So my theme this month is:  get out and make a "once in a lifetime moment" happen!!!  And this month's list has some pretty great opportunities to do just that.  Arrive at one of these fun destinations with camera in hand, embrace the moment, snap some pics then share it and what it meant to you to your world!
For my friends and family and clients outside of the DFW Metroplex, please share on this post some fun things that are happening in your area and what YOU are doing!

Lyric Marketings HOT TOP 10 for August!
August 1-12th: Ringling Brothers: Fully Charged: American Airlines Center – 6:30pm.
Pack up the kids and head to the AAC for a fun night with Barnum and Bailey and their electrifying
Greatest Show on Earth.
August 4, 11, & 18th: Concerts by the Creek: Watters Creek at Montgomery Farm – 7-10pm. Head to Allen for some live music and great food from one of the many area restaurants. Spread a
blanket and enjoy the nice summer evening with friends and some great local musicians.
August 4, 11, 18, & 25th: Summer Drive-In Movies: The Fairmont Hotel – 7pm. Every week during the Summer season, The Fairmont Dallas invites you to enjoy a feature film while
lounging by, or in, their luxurious Junior Olympic pool located on the hotel's Terrace level.
August 5th: The Endless Summer Swim Party: The Fraternal Order of the Eagles -noon- 5pm.
The "House of Plates" food and music blog is putting on the pool party of the summer with a vintage swimwear fashion show and of course – food and music
August 7th: Tuesday Night Record Club: The Texas Theater – 8-10pm. Join special guests Kelly Ingrum and Bert Vandenberg for a night of drinks and music in the upstairs lounge.
August 9th: Summer Film Nights: Samual Lynn Galleries – 6pm. Samuell Lynne Galleries presents intimate screenings of Leonardo Live, the HD capture of National Gallery's insanely popular Leonardo Da Vinci exhibit, and Girl With a Pearl Earring. The ticket price benefits
Hunger Busters.

August 11th: Blondes vs. Brunettes: Cotton Bowl at Fair Park, 7:30pm. Blondes vs. Brunettes is a powderpuff football game hosted for a day of fun, fellowship, philanthropy and enjoyment as a way of raising money and awareness for the Alzheimer's Association.
August 11-13th: TexCom: Four Seasons Resort & Club, 9am. Texas Sommelier Conference. Test your palate with this 3 day wine conference in Las Colinas. *Grand Tasting & Social Media
Boot Camp Still Available.
**August 13-17th: KRLD Restaurant Week: Various DFW Restaurants: Select from any of
the over 125 Restaurants and enjoy a fabulous three course dinner for just $35 per person.
**August 28th: B.B. King with Tedeschi Trucks Band: Verizon Theater, 6pm. Don't miss out on the opportunity to see blues legend B.B. King and songstress Susan Tedeschi at the Verizon Theater in Grand Prairie.

**  Sarah's Musical Kitchen Picks
Music:
Sarah Jaffe: Dan's Silverleaf – August 3rd, 8pm
The Drive Tour:The Prophet Bar – August 10th, 7pm
Jason Miraz:Gexa Energy Pavillion – August 11th, 7:30pm
Smile Smile:Granada Theater – August 11th, 7pm
Old 97's:House of Blues – August 24th, 8pm
Food:
Union Park Gastro Bar: A brand new sports bar/burger joint to enjoy the Olympics in Downtown Dallas.
Boulevardier: Practice your French at this swanky new French Bistro in Bishop Arts!
Cedar's Food Park: Move over Austin – Dallas is making their entrance into the trendy food truck market…FINALLY!
Leisure:
Are the Olympics putting you in an athletics mode? Check out these unique places to exert that energy.
Dallas Fencing Academy
Now get out there and make a moment happen, then tell somebody!
love and Peace!!
Sandy