Shepard Fairey Phenomenon at Dallas Contemporary
February 14, 2012
Don't get stuck in the black hole of Social Media
March 2, 2012
Hey fun lovers and marketing profs!  Here's Lyric Marketing's HOT TOP 10 for MARCH.  You know the best anecdote for getting your creative juices flowing?  Get out and do something, go to a museum, an art gallery, or a place where interesting people meet – have some fun, be a people watcher, pay attention to details and soak up the diversity and creativity that is all around us.  Whether you are a marketing professional, engineer, teacher, Realtor or doctor, we all rely on our creativity to get our projects done and outshine the competition!  Lyric Marketing is all about making your marketing fun, so, here is our HOT TOP 10 local events for March.  Get your calendar out and make some plans for fun – and take a friend or client with you – get out and be seen!  I'm planning to be at the Savor Dallas Wine & Food Festival in the Dallas Arts District, hope to see you there! Love and Peace!  Sandy
PS – If you haven't made plans for Fat Tuesday and want to venture out north, check this out:
Lake Dallas' Mardi Gras celebration is set for 'Fat Tuesday', February 21, 2012 on Main Street from 5 to 9 p.m. Featuring headline entertainment by the Nawlin's Gumbo Kings, a 'Big Easy' parade down the streets of Lake Dallas — it's the Greatest Free Event on Earth… or at least in Denton County.
MARCH HOT TOP 10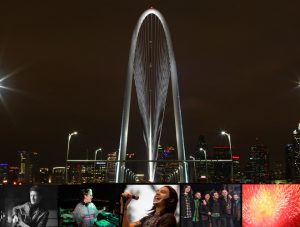 1 – Bridging the Trinity "For the Love of the City" – The Margaret Hunt Hill Bridge Celebration March 2nd through March 4th.  Fireworks will light the sky, illuminating Dallas' newest landmark at the grand opening of the Margaret Hunt Hill Bridge. Throughout the weekend of March 2-4, the Santiago Calatrava-designed bridge will be a destination for Dallas-area citizens and visitors as they join friends and family in festivities which include Lyle Lovett, Street Corner Symphony, Jonathan Tyler & the Northern Lights, local artists and bands, celebrity chefs, a levee run and bike ride, and the best new view in town. The Margaret Hunt Hill Bridge is a defining landmark of the larger Trinity River corridor's existing natural beauty and increasing accessibility.
mhhbridgecelebration.com
2 – 2012 An Affair of the Art – Glory of the Age: Dallas Museum of Art – March 4th through May 27.  Youth and Beauty: Art of the American Twenties is the first wide-ranging examination of American fine art from the end of World War I through the start of the Great Depression. This nationally touring exhibition, featuring more than 130 works of painting, sculpture, and photography by more than sixty-five artists, will demonstrate how American artists of the period embraced a progressive, idealized realism visible in a resurgence of figuration and in highly distilled images of American places and things
DallasMuseumofArt.org
3 – Radiohead: American Airlines Center, March 5th, 7:30pm **  Thom Yorke and his mates from Oxfordshire will arrive at American Airlines Center on Monday, March 5th with their The King of Limbs Tour.
http://www.americanairlinescenter.com/events-and-tickets/event_details.php?eid=1940
4 – St. Patty's Day Parade & Concert: Greenville Ave – March 17th.  Parade starts at 11:00, the gates open for the After-Party Concert with the Old 97's at 1:00pm.  Click here for the Parade map.
http://www.dallasobserver.com/microsites/stpatricks-day-parade/
5 – 2012 Fresh Faces of Fashion 6th Anniversary Event: Crescent Hotel – March 23rd, 6:30pm.  Founded in 2006, the brainchild of now Co-Chair Yvonne Crum, the program enters its sixth cycle this year, introducing a new group of twelve bright young Dallas women to serve as its stylish ambassadors. Nominated by members of the community and readers of Modern Luxury magazine, they'll grace the pages of next month's issue in looks by Stanley Korshak before tackling the task of raising funds and awareness for the Suicide and Crisis Center of North Texas. Since its inception, Fresh Faces has raised over $1 million for the cause, one raffle ticket at a time.
http://dfwstyledaily.com/2012/01/19/modern-luxury-dallas-debuts-2012-fresh-faces-of-fashion/
6 – Uptown Crawl for a Cure: UpTown Dallas – March 24th.  The Uptown Crawl for a Cure is Dallas' largest Pub Crawl event of the year. If you're looking for a great time or want to help out for a great cause, then this event is for you.  Get your friends and create a team of five. Every participating team of five will receive two pitchers of beer at each of the 5 bars on your respective route.
http://www.uptownpubcrawl.com/the-crawl/
7 – Rock 'n Roll Half Marathon: Young St. & S. Griffin St. – March 25th, 8am. Benefitting Susan G. Koman Foundation.
http://runrocknroll.competitor.com/dallas
8 – Festival of Balloons: Downtown Sheraton Hotel – March 25th, 11-3:30pm.  Balloon artists from the World Balloon Convention will have the opportunity to showcase their creations to the public with the Festival of Balloons on Sunday, March 25, 2012. Attendees will marvel at larger-than-life balloon sculptures, dresses and other inflated masterpieces created by balloon artists from all over the world.
http://listings.guidelive.com/dallas-tx/events/show/223725024-festival-of-balloons
9 – Savor Dallas Wine & Food Festival: Dallas Arts District – March 30-31st **.  Savor Dallas was developed to promote Downtown Dallas and the Dallas Arts District.  When it comes to star chefs and premium wines, Savor Dallas is the largest (and most delicious) wine and food event in Texas.
http://www.savordallas.com/index.htm
10 – 2012 Smoking Haute Diffa Collection: The Hilton Anatole – March 31st, 6pm.  This year's event takes place on Saturday March 31 at the Hilton Anatole and celebrates a reinvention of classic fashion.  Join us in a black tie celebration of fashion and design. Experience a silent auction including smoking jackets, live auction, dinner, an amazing runway show, theater, after party, spectacle and excitement in a way that only DIFFA can deliver. All benefiting North Texas HIV/AIDS charities.
www.diffadallas.org
** Sarah's Musical Kitchen Pick!
LYRIC STAFF PICKS FOR OTHER FUN STUFF!
Food & Drink:
Music:
Big Head Todd & the Monsters: House of Blues – March 1st, 7pm
Red Hot Chili Peppers: American Airlines Center – March 9th, 7:30pm
The Beach Boys: Morton H. Meyerson Symphony Center – March 9th, 8pm
Kasabian: Palladium Ballroom – March 12th, 8pm
Neon Indian: Granada Theater – March 13th, 7pm
Paula Cole & Damon Clark: The Kessler Theater – March 24th, 7pm
Fashion:
Five and Ten – Highland Park Village: From JBrand to Lanvin and a few pet accessories in between – an eclectic boutique in Highland Park FIVE AND TEN
The Gypsy Wagon: Sussies for Everyone! A unique treasure off Henderson Ave GYPSY WAGON
Leisure: