Relax! You'll Be More Productive
March 7, 2013
Lyric's Marketing Tip #11 – I choose YOU!
March 13, 2013
FOR IMMEDIATE RELEASE:
San Ramone, California – March 2013 – Lyric Marketing & Design represented Activism for Empowerment and client Stephanie McAndrew this week at the East Bay Women's Conference in San Ramone, California. Lyric Marketing CEO Sandy Hibbard joined Eric and Vivienne Harr and Tony Daniel of Make A Stand Lemonade (MAS) in support of women's empowerment and abolishing slavery.
Marlo Thomas, daughter of actor Danny Thomas who is also the founder of St. Jude Children's Hospital, spoke of her life in the spotlight and her work to advance women's and children's rights. Also speaking at the conference was Lisa Kristine, Fine Art and Humanitarian Photographer who specializes in indigenous peoples and cause related photography. "The highlight of the day for our team was the riveting speech given by Lisa Kristine," states Sandy Hibbard. "Lisa has captured the dignity of indigenous people in 100 countries on six continents, yet never realized that modern-day slavery was in the shadows everywhere she traveled." According to UN estimates, 27 million people are currently enslaved across the globe. Since 2009 Lisa has traveled the world documenting the reality of slavery – photographing their daily suffering and exposing their deep human stories.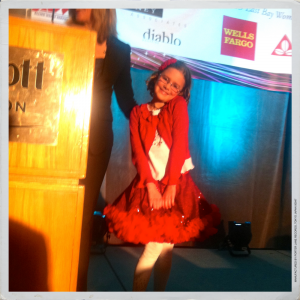 Vivienne Harr of Make A Stand Lemonade was invited to the stage by Lisa Kristine to address more than 600 women attending the conference. Vivienne Harr is the 9-year old activist who started selling lemonade after seeing one of Kristine's photos of two enslaved brothers. "When Vivienne saw the image of the boys she was moved to action. She asked her parents what she could do so that the boys could be free and that is when the idea to sell lemonade and donate the proceeds to end child slavery was born", says Hibbard. "This is such a compelling story. Lisa Kristine's photography, Vivienne's heart, and The Harr's attention to their daughter has started a movement that is changing the world!"
To date, Vivienne has sold lemonade for 240+ consecutive days and has personally raised over $150,000 selling lemonade from her stand. Vivienne has been interviewed on the Jeff Probst show and featured by Huffington Post and the New York Daily News. She is currently scheduled to appear on the Steve Harvey show on March 28. From Vivienne's lemonade stand Make A Stand Lemonade, SPC has been formed and will bottle the organic lemonade and sell in stores across the nation. All profits from the company – just like Vivienne's stand, will go to free child slaves.
Stephanie McAndrew, author and activist from McKinney, Texas and founder of ActivismforEmpowerment.com is joining forces with Make a Stand to end child slavery. The book entitled If Only I Could Sleep, is McAndrew's memoir that focuses on her struggles with abuse, illiteracy and eating disorders. "It is not a dark book but one that offers hope to all individuals that struggle with the bondage of abuse and violence. Stephanie's message of empowerment is a perfect pairing to Make a Stand's mission to end child slavery. It is amazing to me at how willing and quickly women are ready to talk about this issue and share their personal stories. It is time and women are ready – we are not going to be silenced about these crimes any longer."
If Only I Could Sleep is due out in October 2013. Stephanie McAndrew is currently available to speak to your church, school, business and community group about domestic violence and abuse, illiteracy, and eating disorders. To book Stephanie, please contact Sandy Hibbard at sandy@lyricmarketing.com or call 214-208-3987.
Love and Peace!
Sandy