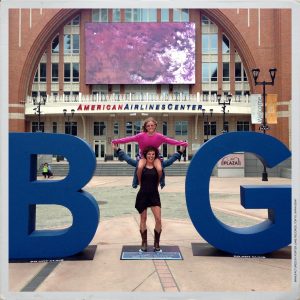 We had a BIG Dallas month in April. From selling lemonade to end child slavery with Make A Stand, to the CASA Gala and the Wine Dinner at The Adolphus with Fess Parker Winery, hanging with my siblings at mom and dads, and hearing the amazing Sarah Sellers perform at Cool River in Irving – it looks like May is going to be just as power-packed!  Here is a look at our hot list for this month.  Get out there and be seen, share your story, make new friends!
Love & Peace,
Sandy
* * * * * *
Lyric's HOT TOP 10 List for May:
May 8th: Iron Fork – Dallas Contemporary, 7pm. A tasting event featuring sips and snacks from more than 20 local food destinations. Highlighting the evening is the Iron Fork Chef Challenge, wherein returning champ Scott Romano (Nick & Sam's) will take on Matt McCallister (FT33) as they work their culinary magic on a basket of the best ingredients from Whole Foods, with a super secret special ingredient that they'll make sing.
May 8th: Blind Beer Tasting – Gin Mill, 7pm. How good are your taste buds? Find out at the Gin Mill's blind beer taste test, where you can pit your self-professed beer nerd knowledge against the ultimate competitor: yourself. The challenge includes light bites to cleanse the palate as your attempt to discern lagers from wheats. Reservations recommended.
May 10th: 24 Hour Video Race – Angelika Theater, 11:59pm. The 12th annual event will begin at the Dallas Angelika Film Center (Mockingbird Station) at 11:59pm with a theme, prop, location and line of dialogue assignment for the film. The race concludes 24 hours later with a sprint to the finish line back at the Angelika. All of the films that make it by the midnight deadline will be screened and compete for awards & bragging rights. The winning videos will later be screened a on Frame of Mind, a KERA television program.
May 11th: North Texas Beer Festival – Irving Convention Center, 2pm. At the 3rd Annual event guests can choose from 100's of craft, specialty and imported beers and wines to sample, attend home brewing classes, keynote speakers, culinary demonstrations or relax to some great live music in our open air beer garden.
May 11th: Homegrown Music and Arts Festival – Main Street Garden, 11am. Dallas' first ALL local music and arts outdoor festival, now expanded to include many great bands with ties to Texas, continues to prove itself an annual celebration of Homegrown music, art and fun. This year it will again feature 15 acts with ties to the state of Texas performing many genres and styles of music on two main stages.
May 14th: HP Byron Nelson Championship – Four Seasons Resort and Club Dallas at Las Colinas. Matt Kuchar, Louis Oosthuizen and Charl Schwartzel have joined Jason Dufner and Keegan Bradley in adding their names to the growing number of top-flight players that will compete in the 2013 HP Byron Nelson Championship.
May 17-19: Taste of Addison – Addison Circle Park. Taste Addison offers a tasty weekend blend of food, music and family fun. This three-day festival features over 60 Addison restaurants serving generous samplings of their menus at reduced prices, national musical entertainment, celebrity chef demonstrations and wine tasting seminars, carnival rides, midway games, award-winning children's entertainment, and more.
May 17-19: Wildflower Festival – Galatyn Park. Richardson's weekend-long festival is a veritable goldmine of acts that run the gamut from `90s nostalgia to country stars, such as Robert Earl Keen, The Toadies, and Uncle Kracker. And of course, it's more than just music. Check out the arts and craft market and tons of fun stuff for the kiddos, like a petting zoo, rock climbing wall, and bounce houses.
May 18th: History with a Twist – Dallas Heritage Village, 7:30pm. Cocktail party celebrating the Dallas Heritage Village. Step back in time and sip classic cocktails along historic main street. Cocktails created by Dallas Mixologist Michael Martensen.
Through May 27 (weekends and Memorial Day Monday): Scarborough Renaissance Festival – Waxahachie. A Renaissance-themed festival based on the year 1533, during the reign of England's King Henry VIII, the Scarborough Renaissance Festival has over 21 stages, 200 shops, 5 food court areas, 9 pubs and much much more.
Food:
Cane Rosso – Neapolitan Pizzas near White Rock
Zeno's Famous Meatball Kitchen – Dallas' First Dedicated Meatball Shop
Pepe's Ranch – Breakfast Tacos and Morning Beers
Mot Hai Ba – Vietnamese Food from the Good 2 Go Girls
The Slow Bone – A Design District Shrine to Smoked Meat
Music:
May 9th: The Killers – Verizon Theater, 7pm
May 11th: Kenny Chesney – Cowboys Stadium, 7pm
May 14th: The Smashing Pumpkins – The Palladium Ballroom, 8pm
May 25th: The Black Angels – Granada Theater, 7pm
May 25th: Taylor Swift & Ed Sheeran – Cowboys Stadium, 7pm
May 28th: Best Coast – Granada Theater, 7pm